Dormitory
UNIST provides all international students with student dormitories on campus, and the applications are usually made before your entry to campus.
Move-in date is usually set a few days prior to the beginning of a semester. If you arrive before the official move-in date, please inform us in advance.
There are two types of rooms: single and double bedrooms. The prices are approximately as follows:
Single room (Dorm 1): KRW 1,179,040/semester
Double room(Dorm 2): KRW 784,000/semester  
Double room(Dorm 3): KRW 828,000/semester
Single room(Dorm 4): KRW 1,200,000/semester
Double room(Dorm 4): KRW 860,000/semester
*The exact cost may differ from each semester. Please take the information above as a reference.
For electricity, water, gas, and other maintenance expense, the cost is already included in your dorm fee (Calculated at around KRW 180,000/semester).
For bedding, please bring your own blanket and pillow (the mattress and bedframe are the only items provided for bed).
After check-in, payment can be made at the designated bank. It is compulsory that you submit your health record to the dorm office. It is recommended to have it completed at your home country before your entry to Korea; however, if not prepared in advance, you may visit a clinic in Korea ASAP as well.
Health records should include tests for TB test, HIV, Syphilis, and Hepatitis B.
As a dorm resident, you are required to purchase tickets for lunch and dinner at the dorm cafeteria.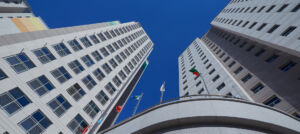 There will be multiple options for Lunch at campus — you may freely choose to eat either at dorm cafeteria or at other cafeterias on campus.
It is banned to bring any cooking equipment and electric devices such as a heater, iron, kettle and so on. Please keep in mind that there are no cooking facilities (kitchen) provided by the dorms.
For further details, please visit a UNIST dormitory website.
On-Campus Accommodation
UNIST provides a faculty accommodation with a full-time faculty and a chair professor near the UNIST campus(bldg 401, 402, and 404).  To apply for a stay and for further information, please contact the UNIST General Affairs team.
Type of Apartment
Bldg 401 & 402: Three types of apartment (3 rooms, 2 rooms and 1 room)
Bldg 404: One type (3 rooms)
The utility will be charged separately
Apartment furnishings and others
Bed, refrigerator, and other furnishings will not be provided
Air-conditioner, closet, shoe rack, and sink are set up
Coin laundry machines are available
Regulations
Priority will be given to newly appointed faculty
A houseless person is only eligible to apply
Resident registration address needs to be changed as you move in
The unpaid rent or utility fee can be deducted from your salary
Please refer to the campus housing regulations for other matters
The period of stay for the residents of Bldg. 404 remains 5 years as long as the wait-list exists